SMBS
Shock Mitigating Boat Seats
Comfortable protection in rough waters
How well do your crews survive the impacts of travelling at speed in rough waters?
Crews aboard high performance craft operating at speed in turbulent waters, run high risks of injury and possibly worse, being thrown overboard. What's more, prolonged exposure to the g-forces and repetitive stress created by riding large waves can develop long term health problems and cognitive fatigue.
Now the new Shock Mitigating Boat Seat (SMBS) from VSS; protect crews and passengers from severe boat movements and improve overall safety and ride comfort.
VSS Crew Seat
The SMBS crew seat is designed as a modular seat. It includes a VSS lightweight aluminium seat, 4 or 5 point safety harness, head restraints, lateral restraints, foot rests and a dual pedestal shock absorbing system.
The safety harness securely locates the seat occupant. The damper system with its 73mm vertical stroke, mitigates the shocks of rapid vertical acceleration. The special damper system has been tuned with a much faster recoil force than the compression stroke force. This ensures the damper recovers quickly in order to absorb the next impact, improving overall ride quality.
SMBS can accommodate people from 70kg to 140kg in the 5%ile to 95%ile range.
The seats lateral supports protect the occupant against the often violent sideways movement of high speed craft. Extra support is supplied by head restraints, hand rails and feet rests. Award winning MouleTec® foam cushioning technology is used for added comfort. MouleTec's® innovative orthopaedic design improves a person's blood flow; alleviating possible health problems arising from sitting for long periods.
Key Features
Reduce Crew Fatigue
Minimise effects of fast travel and wave impact
Dual pedestal shock absorbing system
Individual headrest - aggressive sides for head restraint, optional forward facing version
Lateral support for sudden violent movement
Integral arms, head and foot support
Lightweight strong aluminium build
High strength moulded polycarbonate seat pan and back
Rapid 73mm damper recoil for improved ride quality
Extra comfort with MouleTec® cushioning technology
Multi-function capability
Small footprint for maximum deck usage
2, 4 or 5 Point Quick Release Harness
5 to 95 Percentile Fit
Custom made seaworthy covers
VSS Crew Seat
Dampening and rebound features has been tuned with a much faster recoil force than the compres- sion stroke. This is to ensure that the damper recov- ers quickly in order to absorb the next impact. The damper is outfitted with a stainless coil-over spring, which is factory pre-set.
Depending on the final application, our standard damper/spring system is designed for a wide range of seated personnel from 70- 140 Kgs each. This is done without the aid of any external adjustment mechanisms, as the valving in the shock dampers is velocity sensitive to the force loads that compresses them.
Additionally, the coil-over springs are progres- sively rated, making it easier to compress at the top end, and becoming stiffer as the compression loads increase. Each pedestal has one damper housed within the 73mm Inner Tube. The shock travel is 89mm and in the rare event of bottoming out, will not destroy itself due to a protective design element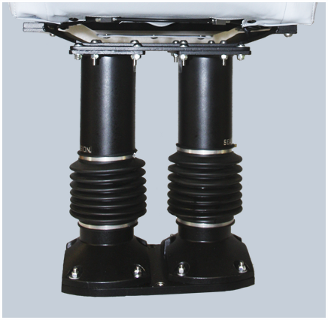 Technical Specifications
| | |
| --- | --- |
| Seat Description | Light weight seat, for use in marine applications. Modular architecture. |
| Part Number | S10600647 |
| Where used | Side facing (parallel to the direction of travel) or forward facing helm control |
| Functionality | Contains shock-absorbing dual pedestal system, dampers linked in parallel are engineered with a much faster recoil force than the compression stroke. This is to ensure that the damper recovers quickly in order to absorb the next impact. Total travel is 89mm High ergomomic comfort for occupants using MouleTec® |
| Max width | 551mm |
| Max and min height (headrest) | 955mm and 1030mm headrest to base |
| Max length | 660mm from top fixing centre |
| Folded depth | 420mm |
| Weight | Circa 40Kg base model |
| Deck attachment method | Bottom plate foot castings mounted to deck via 8 off M12 screws |
| Max shock absorbing travel | 89mm |
| Shock absorbing weight range | 70 - 140kgs |
| Seat restraint types | 2 ,4 and 5 point belt. All fixing points integral to seat structure. Belts 'E' compliant R17 |
| Seat restraint anchorages | Compliant with ECE 74/408/EEC and 76/115/EC. |
| Shock vibration compliance | CONTROL OF VIBRATION AT WORK REGULATIONS 2005, ISO 2631-1 Vibration & Shock evaluation of human exposure to whole body vibration. Part 1 general requirements. |
| Headrest construction | Aluminium armature 5083 h112 (natural finish) with over moulded polyurethane (grained black finish). Aggressive sides designed to constrain the head from rolling out during front/ rear cash incident. Option forward facing version. |
| Headrest | Compliant with ECE 74/408/EEC |
| Side restraint construction | Aluminium armature with over moulded polyurethane (grained black finish). Aggressive sides designed to constrain the torso and lower limbs from rolling out during front/ rear cash incident |
| Seat construction | Aluminium 6082 series alloy bespoke extrusions (aged hardened to T6), welded and mechanically fixed |
| Cushion and Squab | Contains patented MouleTec® pressure relieving technology that promotes pressure reduction and enhanced blood flow circulation (venous) to give comfort during long term sitting for the occupant. |
| Seat cover material | Heavy duty coated polyester fabric, breathable for comfort (microclimate moisture vapour permeable to BS3546). Water proof (Hydrostatic head BS3424 greater than 1m head of water under gravity)and stain repellent. Fire retardant to BS7176 CRIB 5, cigarette and match. |
| seat cover colours | Black, grey (Naval applications). Colour swatches available for civilian applications |
| Foam material | Poly Urethane, compliant to fire regs 95/28/EC annex IV. Fire retardant to BS7176 CRIB 5, cigarette and match. |
| Seat Paint Finish | Black powder coat, TGIC-free Polyester 15-22% (60⁰ head gloss meter), hot salt spray ASTM B117 – pass 1000 hours, Humidity resistance ASTM 2247 – pass 1000 hours |
| Seat Paint resistance | Resistant to most acids, alkalis and oils at normal temperatures. May be affected by chlorinated solvents. |
| Seat paint Artificial weathering | ISO 11341 – pass 1000 hours Minimal colour and gloss loss |
| Operating temperature | (STANAG 2895 A1/C2) -46°C … +90°C environments |