LCS
Lightweight Crew Seat
Ensuring your personnel travel in safety and comfort is Vital
The explosion beneath a vehicle creates shock waves more destructive than dropping it 30 metres.
Although the armour stops shrapnel penetrating the vehicle the occupants are at risk from the devastating effects of the extreme shock from a mine blast.
Vital Seating & Systems Limited (VSS) has been manufacturing its modular lightweight crew seats for many years. At around 17kg the seat can be wall, ceiling or bracket mounted and either forward or side facing. The high specification includes options such as adjustable back rack, foot rest, adjustable head support, side restraints and a choice of a 2, 4 or 5 point harness. The quick release and seat folding systems aid fitment and provide added space saving, change of use and maintenance benefits.
The VSS Lightweight Crew Seat is custom made from high duty aluminium alloys, laser cut and precision welded to form an exceptionally robust seat. Each seat is fitted with award winning MouleTec® pressure relief cushions for extra comfort and wellbeing.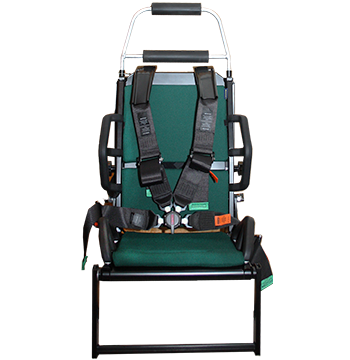 New Features Added
The company's new range of lightweight crew seats keeps the best of the original seat. New features have been added to take account of changing threats, new requirements and customers specific needs. All VSS seats have been specifically designed to protect users against energy pulses from improvised explosive devices (IEDs), mines, and accidents.
The VSS ECD-Tech seat uses Energy Controlled Deformation Technology to supply extra blast deflection and decelerate occupants to safe levels. The unique ECD-Tech system permits the seat architecture to collapse in a controlled way. What's more, unlike other technologies, there are no columns that could buckle under side loading so that the technology offers better protection during multi- directional blast events.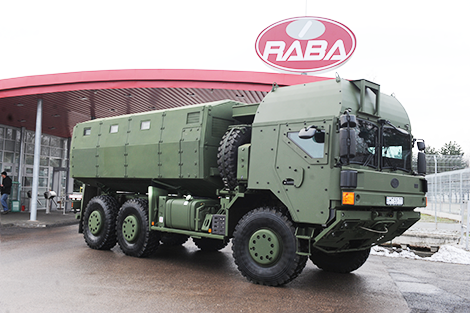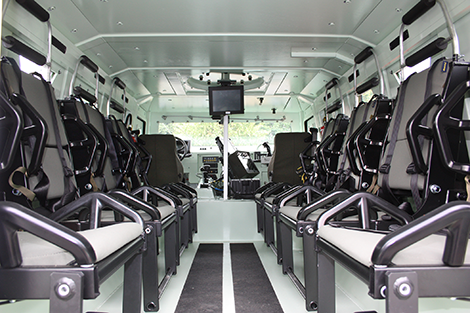 Key Features
Lightweight crew seat - from 15kg
Blast Mitigation - STANAG 4569 live test accreditation
Forward or side facing - trooper, driver or commander
Patented in-built blast attenuation seat structure
No dampers or struts enabling variable seat positioning e.g. over lockers/wheel arches
Quick fitting and removal
Wide temperature range -46C to +49C - STANAG 2895 A1/C2
Full side restraints for safe side-mounted installations
Individual headrest - Aggressive sides for head restraint, optional forward facing version
2, 4 or 5 point quick release harness
Integrated foot rest option
Quick release and fold up space saving features and vehicle flexibility
Extra comfort with MouleTec® cushioning technology
Floor, ceiling, bulkhead or side structure mounting
5 to 95 Percentile Fit
Custom made for vehicle and end-user needs
Custom Made Solutions
The very modular ECD-Tech seat can be easily adapted for any vehicle or application. This allows for the rapid development of affordable bespoke designs with minimum effects on performance levels. VSS provides a concept to in-service solutions for your seating requirements. The latest 3D CAD and finite element analysis software is used to design and prove the seat in full co-operation with the customer's engineering team.
Whether your requirements are military, security or commercial contact us as soon as the project is conceived. Engaging our engineers early can make huge savings in time, re-design and overall project costs.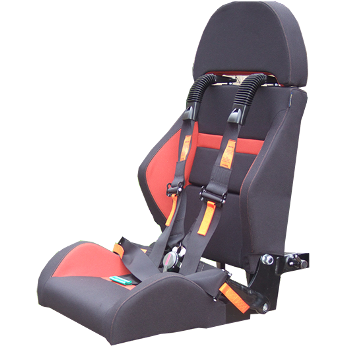 Technical Specifications
| | |
| --- | --- |
| Seat description | Light weight seat, for use in military, security and civil applications. Modular architecture. |
| Part number | S10600600. |
| Where used | Forward facing. |
| Functionality | Contains ECD-Tech (Energy Controlled Deformation Technology) mine blast mitigating, blast energy absorbing construction. Quick fit function for ease of change of vehicle use or maintenance. High ergonomic comfort for occupants using MouleTec® technology. |
| Maximum width | 551mm. |
| Headrest max-min height | 955mm - 1030mm headrest to base. |
| Maximum Length | 660mm from top fixing centre. |
| Folded Depth | 420mm. |
| Weight | 17kg base model (ie. with headrest, no foot rest). |
| Attachments methods | Quick release to side wall via 2 vertical pins locked out by 2 horizontal shoot bolts. Can be ceiling mounted via optional armature. |
| Optional fixing methods | Can be adapted to suit vehicle package. |
| Seat restraint types | 2, 4 and 5 point belt. All fixing points intergrated to seat structure. Belts 'E' compliant R17. |
| Seat restraint anchorages | Compliant with ECE 74/408/ECC and 76/115/EC. |
| Headrest construction | Aluminium armature 5083 h112 (natural finish) with over moulded polyurethane (grained black finish). Aggressive sides designed to constrain the head from rolling out during front/rear crash incident. Optional forward facing version. |
| Headrest adjustment | 3 Position +/- 40mm from centre notch, total 80mm vertical adjustment. Fits 5 percentile female to 95 percentile male. |
| Headrest | Compliant with ece 74/408/ECC. |
| Side restraint construction | Aluminium armature with over moulded polyurethane (grained black finish). Aggressive sides designed to constrain the torso and lower limbs from rolling out during front/rear crash incident. |
| Seat construction | Aluminium 6082 series alloy bespoke extrusions (aged hardened to T6) welded and mechanically fixed. |
| Seat functions | Foldable lower seat pan operated via pull bowden cable system lift to disengage locking system. Optional automatic seat pan lift operated via 2 torsion springs. |