ROPS
Roll Over Protection System
Personnel Protection And Comfort Improves Logistics Vehicle Flexibility
Transporting personnel in comfort and safety at speed across rough terrain in trucks can be difficult.
Especially when they need to be alert and ready for action at the journey's end. What's more, in a frontal accident, overhead crash or vehicle rollover, passengers can be seriously injured or worse.
Now, with the Rollover Protection System (ROPS) from VSS, you can provide outstanding safety and protection for personnel in transit. For extra comfort and care the VSS ROPS features the company's award winning MouleTec® cushioning foam technology. MouleTec improves the blood flow of people who sit for long periods; thereby reducing drowsiness, headaches and pains in the lower limbs.
The VSS ROPS meets the ECE Regulation 66 for rollover accident protection requirement for commercial coaches.
It also meets the Regulation 77 536 covering agricultural vehicle rollover. As well as rollover protection, the frame includes a specially developed tree strike bar to protect occupants from heavy overhead collisions. Each ROPS module is securely locked into place on the truck bed. The high strength galvanised steel frame has been subjected to the most rigorous Finite Element Analysis and then finished product strength assessment tests.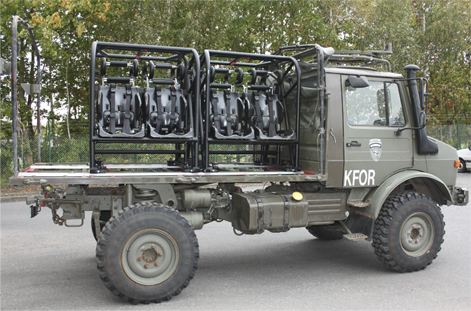 Key Features
The VSS ROPS modular design allows the seating system to be mounted rapidly on a vehicle with a simple 4-person lift. Design includes gun mounts and stowage of equipment tailored to suit the client's specification.
The frames can be supplied as 2 or 4 seat modules, combined up to 16 seat installations.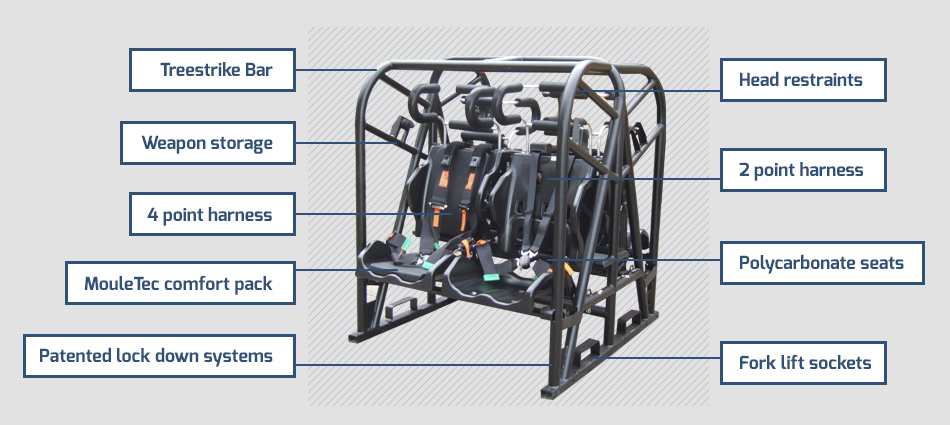 Protection in side, frontal, overhead or rollover collisions
Custom made modular system - 2-person or 4-person
Convert logistics vehicles from cargo to personnel transport
2,4 or 5 Point Quick Release Harness
Cuts vibration effect, increases vehicle/convoy speeds
Vehicle bed modulation - full design and installation service
5 to 95 percentile fit - with webbing, kit and weapon storage
OEM or existing asset retro-fit
Extra comfort and safety for personnel transport
MouleTec® cushioning technology
Rapid Install / Un-install
Nato NSN codified
Individual survival zone for each occupant
Material Operating Environment - (STANAG 2895 A1/C2) durability +49°C to -46°C
Patented lock down systems
High strength moulded polycarbonate seat structure
Comfort and Safety
The polycarbonate seats feature MouleTec geometry and principal of passive "unconscious positional control". Removable easy clean cushions and back squabs can be supplied as required. The ROPS seats can be supplied with scalloped lower back voids which enable soldiers to sit whilst wearing webbing.
As an alternative, the VSS lightweight crew seat can be fitted to replace the standard polycarbonate seat. Vibration tests carried out on the VSS ROPS seating system have demonstrated a 4-fold increase in operation time compared with the daily maximum vibration level dosage allowance. With troops secure and safe in the back of a vehicle customers have seen an increase in average safe driving speeds typically from 50 to 80 kph.
Whether your ROPS requirements are for original equipment or existing vehicle upgrades, VSS engineers can adapt to all makes and models. Contact VSS sales team now to arrange a product trial.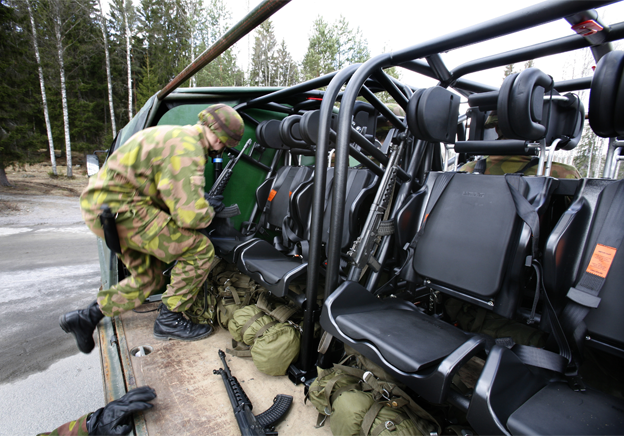 Technical Specifications
Version and part number
4 occupant version, S106R00040NH.
Weight
180kg 4 man (with 4 off lock down devices)
Features
System mounted with quick release system, can be loaded in under 5 minutes (4 man lift). Permits rapid change of use of vehicle from cargo to passenger and back. Both patented head protection for each occupant and locking device to secure to vehicle bed.
Material operating environment
Material selected for range of hot and cold climate. (STANAG 2895 A1/C2) durability +49°C to -46°C.
Seats
Seats made from special formulation plastic with high impact strength down to -60°C.
Seats and comfort
Patented sculptured orthopaedic shape to base and back. Seats designed for ergonomics and comfort:- MouleTec® patented pressure relief, long term seating comfort. Optimised ergonomics for off road. High degree of lateral protection for high 'g' restraint.
Commercial
VSS ROPS NATO codified with NSN (Nato Stocks Number) 2510-99-151-6540.
Performance and features

Roll over legislation (ECE R66 and 77/536 EEC). Each occupant has their own individual survival zone. Roll over protection structures of wheeled agricultural or forestry tractors 77/536 /EEC2 Tonne mass on a 4m pendulum raised vertically through 1.65m (29.9KJ of impact energy).

Patented head protection, tested system tested and compliant with: Tree strike, special test for FDF 20cm dia spruce log, with 77.3Kn applied, total energy imparted 29.5KJ. Capable of holding a truck when turned upside down without collapsing. Rollover protection coach regulation ECE R66. 22 Tonne GVW (Gross Vehicle Weight) rolled from a 880mm step. Headrest tested to ECE R17 Seatbelt compliance to ECE R16 directive 77/541 EEC.

Compliant with 76/115/EEC seatbelt anchorage loads the 76/115/EC. Directive Section 5.5.1 states : "pass condition is when the required force is sustained for the specified time regardless of permanent deformation or rupture". 7Kn applied at all mounted points for 2 occupants of 140kg side by side.

Structure
Steel (Seamless Cold Drawn Normalised) selected for its low temperature performance (low brittle transition temperature), high ductility for controlled deformation under high energy impacts. Gauge reduction in low stress areas for optimised weight.
Plastics compliance and corrosion performance
Fire performance to coach and bus directive 95/28/EC annex VI. Frame in hot dip zinc galvanised, EN ISO 1461:2009 and then paint process, cathode method, heat stoved for 8 hours
Seat restraint types and anchorages
2, 4 and 5 point belt. All fixing points intergrated to seat structure. Belts 'E' compliant R17. Compliant with ECE 74/408/ECC and 76/115/EC.
Headrest construction and adjustment
Aluminium armature 5083 h112 (natural finish) with over moulded polyurethane (grained black finish). Aggressive sides designed to constrain the head from rolling out during front/rear crash incident. Optional forward facing version. Compliant with ECE 74/408/ECC. 3 Position +/- 40mm from centre notch, total 80mm vertical adjustment. Fits 5%ile female to 95%ile male.
Side restraint construction
Aluminium armature with over moulded polyurethane (grained black finish). Aggressive sides designed to constrain the torso and lower limbs from rolling out during front/rear crash incident.
Seat construction
Aluminium 6082 series alloy bespoke extrusions (aged hardened to T6) welded and mechanically fixed.
Seat functions
Foldable lower seat pan operated via pull bowden cable system lift to disengage locking system. Optional automatic seat pan lift operated via 2 torsion springs.