Therapeutic Mattress
These are the key benefits required from a therapeutic mattress
Pressure Relief
Optimum Support
Extra Comfort
When lying in bed pressure builds up around contact points between the body and the mattress surface which results in discomfort and increases the risk of developing pressure sores.
This pressure build-up can also indicate the body is not being evenly or fully supported. It is very important to ensure occupant weight is well spread across the mattress surface with adequate support to help avoid such physiological conditions.
MouleTec Medical Therapeutic Mattresses are specifically designed and developed for those requiring varied levels of pressure relief while lying in bed and are suitable for occupant weights up to 245 Kgs. The Bariatric version of the mattress uses heavier density foam and is suitable for occupants up to 345kg
Unique MouleTec design and technology helps to spread weight evenly across the contact surface of the mattress. This in turn greatly reduces pressure build-up at any given contact point to provide improved overall comfort and alleviate health risks.
The mattress construction uses high resilience polyurethane foam materials and is manufactured to the highest specification. It features the unique MouleTec perforated design which enhances pressure relief and promotes air-flow to reduce localised heat build-up.
Covers for are made with strong welded seams and are anti-bacterial, anti-microbial, breathable and water resistant. They are zipped for easy removal and cleaning and can be machine washed at 900C.
All MouleTec Medical Mattresses fully comply with Medicines & Healthcare Products Regulatory Agency (Devices) requirements. They are also CE compliant and meet the Furniture & Furnishings (fire & safety) regulations and Flame Retardancy Ignition BS7175 / CRIB 5 requirements.
MouleTec Medical Mattresses are highly versatile and can be used in a variety of locations and environments including standard hospital beds, nursing beds, profiling beds and as a replacement mattress for household/domestic beds.
Weight evenly spread over the contact surface
Reduced risk of pressure build up
Occupant fully and evenly supported
Improved comfort and healthcare benefits
Air flow design avoids localised heat build up
Unique MouleTec design and technology
High resilience polyurethane foam construction
Optimum pressure relief, support and comfort
Flame retardant and CRIB 5 compliant
Hand or machine washable water resistant, anti-bacterial, anti-microbial covers
MHRA & CE Compliant
Dimensions: W 87.5cm x L199.0cm x D15.0cm
Weight - 10kg
Warranty - 5 years materials/workmanship
Safe working load – Standard 245kg – Bariatric 345kg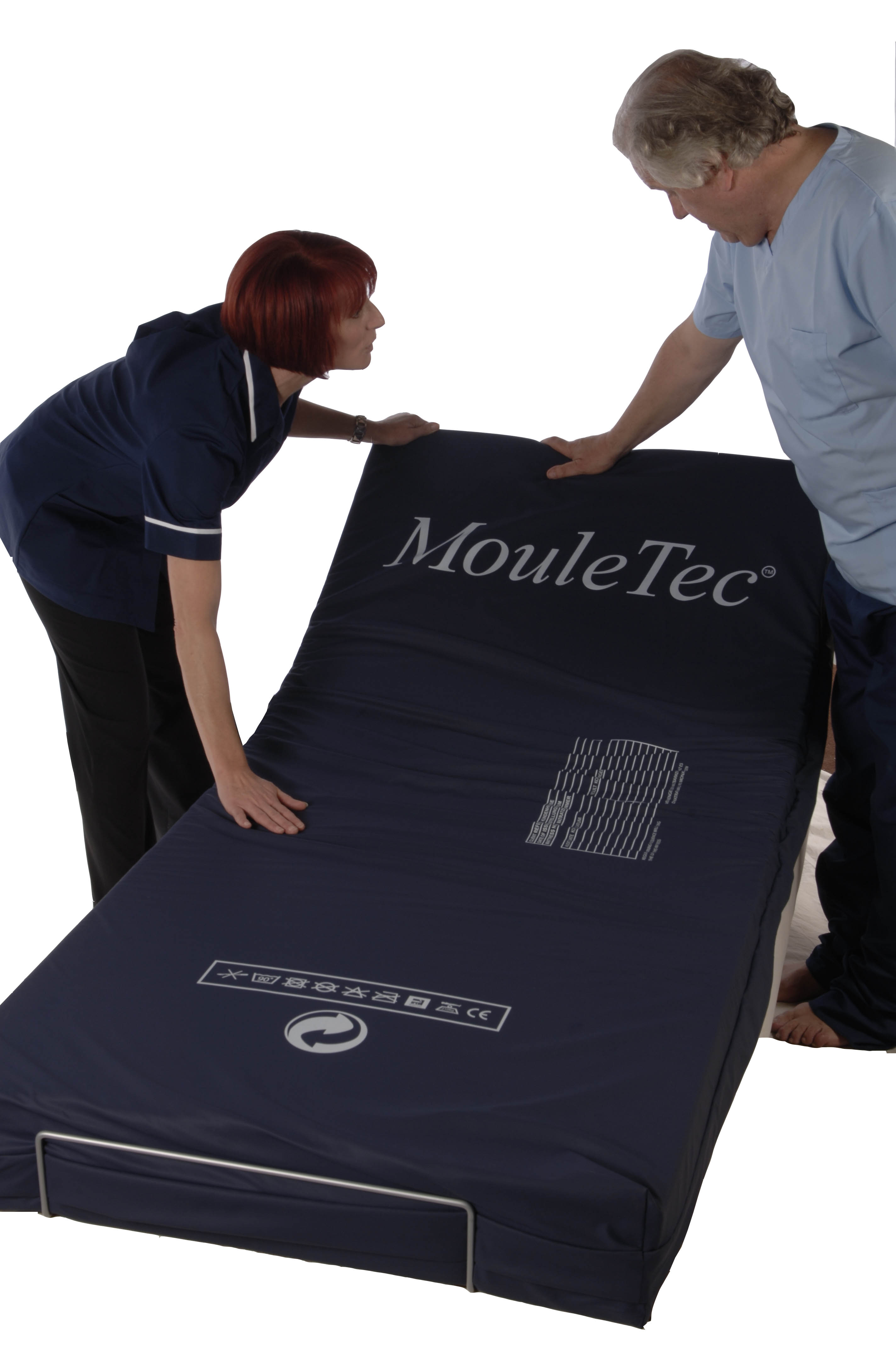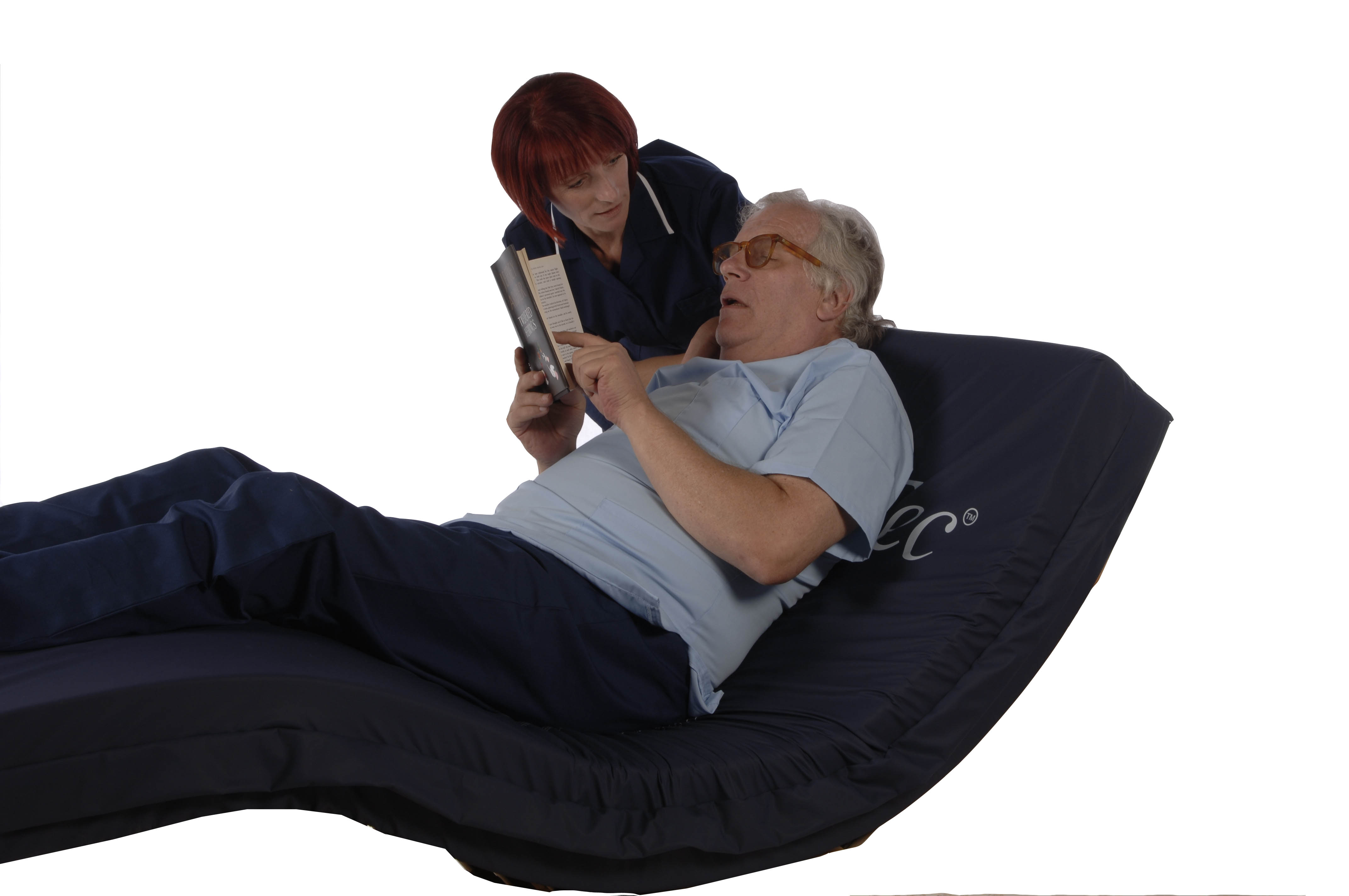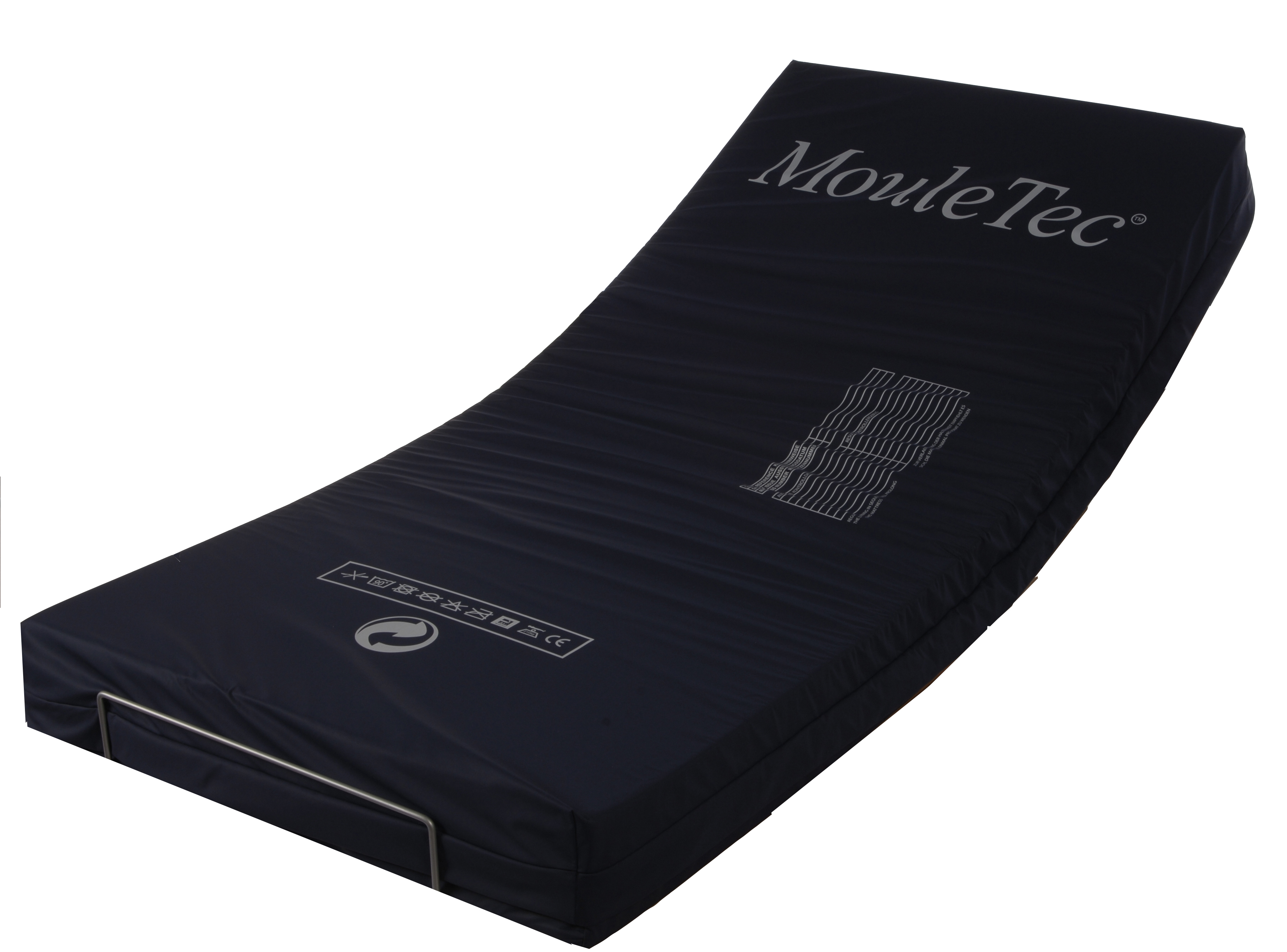 Award winning technology
MouleTec pressure relief technology has been developed in collaboration with UK Universities, the NHS and distinguished osteopaths. It has won a gold award at the British Innovation Show.
The benefits of a MouleTec therapeutic mattress are clearly seen when performing a pressure mapping test. The images to the left are screen shots from a computer monitor. The red patches in the top image indicate contact areas of high pressure which could lead to circulatory problems or worse. The bottom image shows how these levels of pressure build up are greatly reduced when using a MouleTec Therapeutic Mattress.